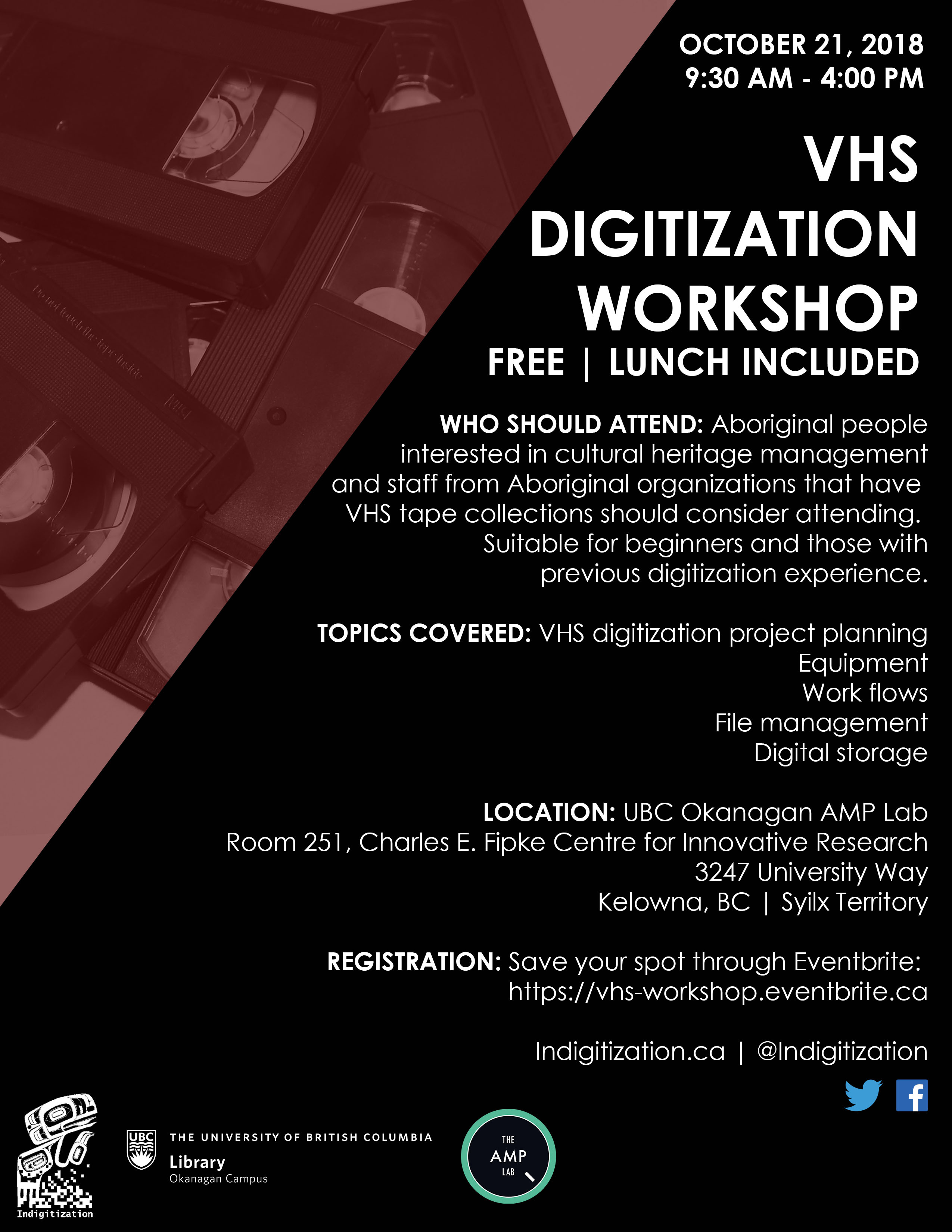 Indigitization is pleased to announce our upcoming VHS digitization workshop, in partnership with UBC Okanagan Library and with sponsorship from Dr. Karis Shearer and the AMP Lab!
This full-day workshop (9:30am to 4:00pm), held at the AMP Lab (Fipke Centre – Room 251) at UBCO on October 21, 2018, will cover a variety of topics for those interested in learning about VHS digitization of cultural heritage media.
Intended for Aboriginal community members and staff from Aboriginal organizations, especially those with VHS tape collections, this workshop will cover these topics: digitization project planning, equipment, work flows, file management, and storage. While this workshop is suited to beginners it will also be relevant to those with previous digitization experience.
Workshop is free but registration is required to save your spot. Lunch is included.
CLICK HERE to Register
Here are a few resources and reminders to help you enjoy the conference. The BC Museums Association Conference is happening October 21 to 23, 2018 at the Delta Grand Okanagan Resort, Kelowna Museums and the Kelowna Art Gallery. We are counting down the days so excited to see you all there meet new people and catch up with familiar faces as we count down the days.
Conference Program Guide – To keep the conference green and eco-friendly, paper conference programs will not be provide on-site. Please print off what you may need beforehand or refer to the online BCMA Conference Program.
Speaker Bios – There is an amazing list of speakers and workshops lined up including keynote speakers, Dr. Yosef Wosk, OBC and Megan Richardson. Find their bios and more information here.
Name Badges – Please pick up your name badge when you arrive in Kelowna.  The Conference Desk is located at the Delta in the Skaha Foyer unless otherwise noted.  The hours are:
Sunday, October 21, 2018 from 8:00 am – 9:30 am AND 1:00 pm – 4:00 pm
Sunday, October 21, 2018 from 4:30 pm – 7:00 pm at the Kelowna Art Gallery
Monday and Tuesday, October 22 & 23 from 7:30 am – 5:00pm
Your name badge is required for entry to the Welcome Reception and all conference events.
Pre-conference workshop registrants: Be sure to review the schedule and pre-reading material in advance and bring your own print-outs as needed. Join us at 8:30am for coffee and networking; the session will begin at 9am.
Welcome Reception – Sunday, October 21, 2018 at the Kelowna Art Gallery at 1315 Water Street from 5:00 pm to 7:00 pm. There will be a cash bar – so please come prepared with real money!  We do not accept credit cards.
Conference Opening – Monday, October 22, 2018 starts bright and early at 8:00 am with breakfast and opening remarks in the 1/3 North room followed by Megan Richardson who will provide our opening keynote. Check the conference program for full details.
Kelowna resources: our Conference committee has kindly assembled a restaurant list and other local information to help everyone enjoy their time in Kelowna.
Social media – please use #bcmuseums and help us create a buzz around Conference 2018!
Please let us know if there is anything you need in advance of the conference – you can contact our office by emailing bcma@museumsassn.bc,ca or call us at 250-356-5700.
We look forward to seeing you soon!
On October 20, BC residents will once again take to the polls to decide on our municipal government and our province's future. While voters will have their own priorities and candidates in mind, we encourage our members to be aware of the arts-related issues important to them. Supporting the arts and museum sector may not seem like a hot topic of debate; however, the culture sector is one of the fastest growing sectors in BC, providing 88,000 jobs.
Interested in helping to support culture and heritage in your community? Be sure to read the latest issue of Roundup and check out our municipal election primer. The BC Museums Association also encourages our members to check out the resources available through ArtsVote and to take an active role in your community's municipal election. Municipalities provide essential funding for BC's museums, along with many other services and supports, and are key partners in the success of our sector! Two needs are consistently identified as critical to the success of the arts, culture and heritage sector; the need for an increased investment in municipal cultural grant programs, and the need for an increase to municipal capital spending on cultural infrastructure.
It's easy to contact your municipal politician and invite them to your events, but you can also attend an all-candidates meeting, or volunteer for your candidate of choice.  Advocating for increased annual funding and grant support for culture and heritage may be easier than you think. Showing your support by voting for candidates with arts priorities in mind is one of the best ways to support your community and the arts sector you love.
Fall 2018 issue of Roundup is now available to read online!
Read about celebrating B.C. communities and their contributions to Canada, our 2018 municipal election primer, and the Chinatown Storytelling Centre.
The Annual General Meeting of the BC Museums Association will be held at the Delta Hotels Grand Okanagan Resort, in the 1/3 North Room at Terrace Ballroom at 12:30p.m. on Tuesday, October 23, 2018 for the following purposes:
1. To consider the President's Report, Executive Director's Report, and the Financial Statements
2. To elect members to the BC Museums Association Council
3. To amend the Bylaws of the Association
4. To appoint auditors
5. To deal with such other business as may properly be addressed at the meeting.
Active members can download the AGM materials using the password provided by email. Please contact us if you need any assistance accessing the materials.
Voting at the AGM
If you cannot attend the AGM, your vote can be recorded by Proxy. Members in good standing who will not be present at the meeting can appoint an individual as a Proxy, either the Association Past President or another member in good standing, by completing the form provided. The use of the proxy is limited to voting on amendments to the constitution and bylaws, and the election of officers and Council. Proxy votes cannot be changed once assigned.
Institutional Members must designate a representative to vote on behalf of their institution. Only one representative can vote.
Proxy and Institutional Member voting assignments must be received by the BC Museums Association by mail / email by October 18, 2018, or hand-delivered to the Conference registration desk in Kelowna in advance of the Annual General Meeting. Proxy forms are available to members in the AGM package. Please contact us with any questions: members[at]museumsassn.bc.ca or call (250) 356-5700.
BC | Canada 150 Grant Recipient Project Highlights
BC Farm Museum Association, Fort Langley
Project: Ventilation System Replacement
Funding Received: $8,000
The BC Farm Museum's purchase and installation of a new ventilation system directly benefited the health and safety of the 40+ volunteers who spend time in the workshop restoring and repairing priceless artifacts from the BC Farm Museum collection.

Photo submitted
BC | Canada 150 Grant Recipient Project Highlights
Northern Trails Historical Society
Project: "Emergence" – Public Art Sculpture
Funding Received: $20,000
A Caterpillar Trencher used in the building of the Alaska Highway has been transformed into a public art sculpture, titled "Emergence". Emergence seeks to reflect the history of the Peace-Liard's Indigenous and non-Indigenous people and to emblemize a community moving together toward a deeper understanding of both.
The project provided a unique opportunity for artists in the community to work with internationally renowned Indigenous artist, Brian Jungen. The project brought together both Indigenous and non-Indigenous artists in a truly meaningful way, and the emphasis of indigenous perspective greatly strengthened the power of the sculpture. The aim was to use the historic artifact as a shared canvas where artists could express their individual experiences side by side. Emergence celebrates difference. The public art project has helped build relationships between communities, artists and the partnering organizations and indigenous groups.
"Emergence" is now permanently displayed at the National Alberta Railway (NAR) Park in Dawson Creek, BC, which also houses the Dawson Creek Art Gallery and The Dawson Creek Station Museum. It is a prime location, marking Mile Zero of the Alaska Highway. Northern Trails Historical Society partnered with the Peace Liard Regional Arts Council to apply for BC | Canada 150 funding, and with the City of Dawson Creek to provide a permanent location and in-kind contributions of site set-up and vegetation.
The public art project not only evokes the complex layers of history that grew out of this piece of machinery, but that it also highlights the idea of new growth and moving together in positive ways toward our collective future.
Emergence: displays several lines of poetry and quotes:
1. Translated from Cree, the following line expresses the experience of bulldozers coming through Indigenous camps: "Giant kettles are coming through the bush, and they leave a trail where nothing grows."
2. Cut into the boom of the sculpture are lines from Helen Knott's poem, "Dear Prime Minister: this poet has something to say to you about Indigenous rights." The full poem, which was made into a video, can be viewed online here »
3. The following lines were written by Dean Mattson: "Am I integral or just turning a useless little wheel / Come see what pretty thing from ugliness grew." From these provocative words, many meanings may emerge, depending on the unique perspectives and experiences of those who read them.
Emergence
Photos submitted
BC | Canada 150 Grant Recipient Project Highlights
Golden & District Historical Society
Project: Stop the Rot and End the Rain
Funding Received: $36,000
Stop the Rot and End the Rain was the name of The Golden & District Historical Society's project to replace the roof on the 1904 CPR railway station in Golden.
Golden CPR Railway station roof repair (before)
Photo submitted
Golden CPR Railway station roof repair (after)
Photo submitted
The historic building has needed repair for the past 20 years. Since 2015, the Golden & District Historical Society has replaced all of the broken and cracked windows, installed new locks on all the doors and cleaned out the main structure. The BC | Canada 150 grant enabled the Society to finally replace the rotting roof and work on the interior is underway to make the space habitable once again. The space will be used to share local history and to house other local non-profit associations.
Yale and District Historical Society
Salmon Arm Museum & Heritage Association
Project: Montebello Museum
Funding Received: $75,000
The new Montebello Museum will be the focal point for the RJ Haney Heritage Village and Museum which is the municipal museum for the Salmon Arm area. The new building provides greatly expanded museum space for decades to come, allowing for enhanced exhibits and programs for the residents of, and visitors to, the City of Salmon Arm.
BC | Canada 150 funds have been used to complete the installation of drywall, painting, and other interior finishings.
Montebelllo Museum exterior
Photo submitted
BC / Canada 150 Grant Recipient Project Highlights
Yale and District Historical Society
Project: Ward House Property Revitalization
Funding Received: $23,000
The BC | Canada 150 grant program supported the installation of a small commercial kitchen, bathroom, fire and alarm systems to allow and expand public use of a large storage structure on the Ward House property. This grant helped to preserve and showcase a building in a community that can now be used for social gatherings and the bringing together of diverse groups from the community to share their knowledge, skills and stories.
Ward Tea House interior
Photos submitted
The Yale & District Historical Society will be able to expand educational and school programming and will host workshops and cultural events in the new "Ward Tea House", which also provides a warm, welcoming spot for community members and visitors to meet, collaborate and share knowledge and skills.